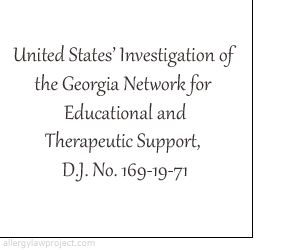 Sometimes schools propose separating a child with disabilities from his peers as an acceptable type of accommodation.  But is it really?  This issue, as it relates to the Americans with Disabilities Act (Section 504 was not discussed) was addressed in a recent Department of Justice ("DOJ") Letter of Finding against the State of Georgia (download the pdf file here).
The DOJ was summoned to investigate a long-standing practice in Georgia of segregating children with behavior-related disabilities in separate schools away from the general population. The system, known as "GNETS" (Georgia Network for Educational and Therapeutic Support), consists of a network of segregated classrooms and schools spread throughout the state, with some schools housing children from several school districts.  Approximately 5,000 students attend a GNETS school.
Georgia Students With Behavior Related Disabilities Discriminated Against Statewide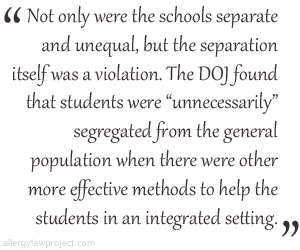 The DOJ conducted a thorough investigation of the GNETS system. Their findings were shocking. Many GNETS students spend their entire school day separated from their peers and classrooms are housed in basements and have separate entrances and some even have metal detectors which are not present in the general population schools. Those that are connected to other schools often have locked wings or fences. In addition, GNETS students receive less teacher-led learning time and instead rely on computerized instruction. GNETS schools were found to often lack extracurricular activities such as athletics and clubs, and the facilities are substandard.  Most GNETS facilities lack gyms, cafeterias, libraries, science rooms and playgrounds. In fact, many GNETS schools are poor-quality school buildings that were used during the time of racial segregation.
The DOJ found that the GNETS system was in violation of the Americans With Disabilities Act, Title II ("ADA"). Not only were the schools separate and unequal, but the separation itself was a violation. The DOJ found that students were "unnecessarily" segregated from the general population when there were other more effective methods to help the students in an integrated setting. They were denied "opportunities to interact with [their] peers without disabilities to the fullest extent appropriate to the needs of the student[s]." 28 C.F.R. pt. 35, App. B., at 685.   As a result, the students were denied equal access to educational programs and services which were provided to their non-disabled peers. The DOJ recommended reasonable changes to fix the problems which would not fundamentally alter the GNETS system, in accordance with the ADA. The DOJ warned Georgia that if they could not agree to the changes, the DOJ would have the right to sue the state.
Separate and Unequal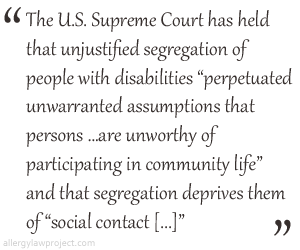 Many times, as in the case with GNETS, separate is not only unequal, but is in fact harmful. The U.S. Supreme Court has held that unjustified segregation of people with disabilities "perpetuated unwarranted assumptions that persons …are unworthy of participating in community life" and that segregation deprives them of "social contact, …educational advancement and cultural enrichment." Olmstead  v. L.C. , 527 U.S. 581 (1999). This is one of the reasons why the ADA and its regulations compel schools to integrate students with disabilities to the fullest extent possible with their non-disabled peers.
So will segregation of the disabled student always be considered inappropriate? The U.S. Supreme Court found segregation to be unwarranted when:
"a) [community-based]  services are appropriate;

b) the affected persons do not oppose community-based treatment; and

c) community-based services can be reasonably accommodated, taking into account the resources available to the entity and the needs of others who are receiving disability services from the entity."
Olmstead, at 587. In other words, putting the disabled child in the general population must be "appropriate," agreeable to the student, and the school must be able to accommodate the child in the population with the resources available to it.
Food Allergy Application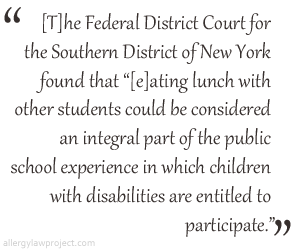 How does this apply to the context of food allergies? Well, many children with food allergies are told by the school that they must sit at a separate table from their peers (or sit in a different room altogether) at lunch as a reasonable accommodation. If the student feels strongly that he should be able to sit at a table with non-food allergic children, then forcing him to be segregated could be a violation of the ADA.
A school could make the argument that it cannot allow a food allergic child to sit at a table with his allergens and be sure to keep the child safe. However, if the school can make reasonable, affordable accommodations to make the table a safe space, refusing to do so may be a violation of the ADA. In fact, the Federal District Court for the Southern District of New York found that "[e]ating lunch with other students could be considered an integral part of the public school experience in which children with disabilities are entitled to participate." K.M. v. Hyde Park School, 381 F. Supp. 2d 343,360 (S.D.N.Y. W005). Food allergic children should not be unnecessarily deprived of these experiences.
A Seat at the Table
There are many steps a school may be ale to take to allow a food allergic child to eat safely with his peers depending upon the specific needs of the child.  For example, some schools have successfully restricted the types of foods that can be eaten at the regular lunch table, or have created a zone of safety where children immediately next to and across from the child with allergies at a regular table have safe meals.  Schools must consider the damage that can be done by daily segregation of a food allergic child from his peers when there are alternatives that allow safe inclusion.
While not meant to be legal advice or advertisement, this post, like all featured here on the Allergy Law Project, is meant to assist in a general understanding of allergy law. Questions or concerns sent via e-mail or social media should not contain confidential information and no attorney client relationship is contemplated or implied by provision of this information. Comments are closed but you can e-mail admin@allergylawproject.com if there are topics you'd like to see covered or if you are interested in being a contributor. All rights reserved, not to be reprinted or republished without express written permission.