While many of our posts so far have looked at discrimination and the rights of food allergic individuals, there are other points of intersection between food allergy and the law.  A question that has come up from readers looks to the legalities of parental authority and how that intersects with advocacy for children with food allergies here in the United States. Divorcing parents may ask if the skill set of one parent in managing food allergy in the home can tip the balance for custody determinations or parents who share legal custody of a child might hit roadblocks in dealing with schools when their former partner takes a differing position on requested section 504 accommodations. The favorite answer of attorneys to all of the above is, "it depends." It really does depend on many factors, only one of which is a diagnosis of food allergy.  Also, a custody dispute is never truly "final" because the relationship that goes with caring for a child goes at least until they are 18, if not beyond (in cases of incapacity as an adult, for example).
"The Best Interests of the Child"
Though a phrase used heavily in all things legal and child related, "the best interests of the child" standard is relatively recent to American jurisprudence.  Today, it boils down to considering decisions about children with their best interests at heart – things like safety, stability, having both parents in their lives if possible, etc.  Remember that every state is different, but the concept is generally accepted today.
In the colonial era children were viewed as property and the case law regarding them was more of contracts than of custody. Parents could even, and did, indenture out the services of their children.  Children didn't have rights as much as the people who directed them had rights to do so.  Granted, it is hard to think of our children cleaning up their own rooms these days, let alone working in a field, but childhood in the United States looked a lot different back then.
Eventually the "tender years" doctrine took hold as mothers were perceived as nurturers and families no longer worked on farms but instead in industrialized cities. In the 1900s, as the "best interests of the child" standard took shape, courts continued to be able to use broad discretion to decide case outcomes in custody disputes. With all due respect to the judiciary, this is very much still the case today.  A judge who understands food allergy could use their discretion in a case differently than one without information to aid in understanding the day to day challenges of the condition.
So many factors can be, and are, considered by courts regarding children – but shared responsibility for children is considered ideal except where case by case circumstances dictate otherwise.
Disease Management
What does this mean for food allergic children and their parents? Food allergies are just another factor to throw into the mix. If dad knows how to bake wheat free but mom doesn't, can dad argue that he should be a primary custodian for a child? The argument could be made in the more general sense that one parent has been more involved in a child's life and that status quo should continue, however, there is a lot of nuance even in that hypothetical. Parents share responsibilities when they are on good terms with one another, so it isn't uncommon for one to take the burden of doctor's appointments or meals while the other parent may have been equally proficient but opted instead to divide the labor. So nothing is as clear as it seems when you're on one side or the other.
Child custody comes up in a divorce, a visitation dispute, guardianship, termination of parental rights, and more.  The idea of this article is to offer a practical outlook that may help caregivers filter through their fears and get to facts they can present to their legal counsel, or, to the court if they're self represented.
Document, Document, Document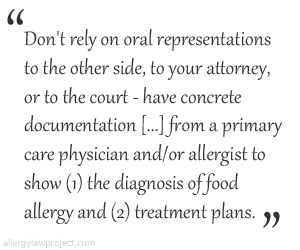 Having the right documentation at your fingertips is a great tool for "making a record."  The way our court systems are set up, if you don't really present the whole story to the court in your initial case proceedings, you may not be allowed to make new arguments if a matter heads for appeal.  Don't rely on oral representations to the other side, to your attorney, or to the court – have concrete documentation (taking into account medical privacy laws, of course, so be sure you're filing something confidentially if it is required) from a primary care physician and/or allergist to show (1) the diagnosis of food allergy and (2) treatment plans.  Just because your school 504 as negotiated may include a detailed plan of accommodation does not mean that your child's allergist would go to similar lengths or that the parameters from the 504 would be viewed as binding by the court.  When it comes time to negotiate a new 504, with both parents typically sharing legal custody of a child even if physical custody is divided, having written guidance from court orders about how to paint your child's disability and the measures needed to keep them safe will be vital.
Changes Over Time
Later, after a custody arrangement is in place, written orders are even more important if perspectives change.  Your ex may go from being on board with avoiding shared facility labels to being more lax, or in one trend that readers have reported, parents have differing views regarding epinephrine.  One parent may ensure that no one leaves home without two autoinjectors while another may carry just one, or none, when their children are with them.  Dr. Ruchi Gupta reports on her website that a study of mothers and fathers yielded interesting results about their levels of empowerment regarding food allergy disease management – mothers felt more empowered (but fathers had a better quality of life).  The same study found that parents had about a 75% knowledge base regarding food allergy management.  Arguably, therefore, where one parent's 75% lies and another's 75% may not always overlap and is ripe for conflict.
Caring and Conscientious Co-Parenting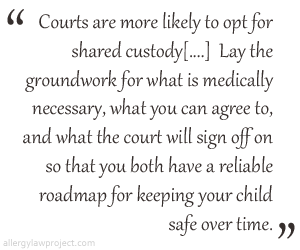 Going through a relationship shift is already a harrowing time, but when emotional and physical safety are at play, it is even more important to be a team in the face of food allergy.  Even so, trust at one point may not yield the same results over time so it is crucial to document any agreements about disease management with supporting medical information.  Areas to cover include things like: epinephrine (carrying, storing, etc.), label reading, parties, school events and activities, and considerations about other caregivers (babysitters, family members, friends, and more).  Courts are more likely to opt for shared custody than skewing one way or another unless there are compelling reasons to do so.
Don't come out of the gate with the argument that another parent is unfit simply because they may not have had experience closely managing food allergies.  Lay the groundwork for what is medically necessary, what you can agree to, and what the court will sign off on so that you both have a reliable roadmap for keeping your child safe over time.  Litigants need to be aware that a court decision is never going to take into consideration all the factors that can be implicated through settlement negotiations.  Still, sometimes parties can't work together and a ruling from a judge will become the guiding precedent for future parent interactions.
The key to consider is this: When everyone has the tools to succeed, a child can only benefit.  When parents are looking to catch one another in errors, relationships suffer.  Unfortunately, both parents have to make an effort.  You can't control if the other side is going to be unreasonable but you can still hope that is the case.
Example Cases
What follows are some cases that come up when you search nationwide for information about child custody and food allergy.  Hopefully each shows the significance of having good, science based, evidence of the food allergy and taking care of it to help courts make their decisions.  On appeals, the court has to consider what was presented below, so there's little chance to add to an argument after the appropriate procedural opportunity has passed.
In a case out of Alaska, Frackman v. Enzor, the question of an allergy diagnosis was a contentious issue between the parties.  327 P.3d 878 (2014).  Though not the heart of the dispute ultimately decided by the Alaska Supreme Court, the father alleged that the mother of a child was "feeding [him] foods to which he was allergic."  Id. at 880.  A footnote went into further detail, stating that a patch test was done in 2010 after a negative blood test and the patch test showed "trace allergies to many different types of food."  A test the following year was negative for some of the identical foods.  "At trial, [the father] testified based on [the child's] behavior, he believed [he] still had allergies to corn.  [The Mother] has questioned [the child's] allergies since the concern arose in 2008."  Id. at Footnote 3.  The father requested that the mother keep a food journal so that they could all track their son's foods and also made a list of foods for their son to avoid.  "The court found that [the mother] falsified the journal to cover up the foods she was feeding him."  Id.  Just that little insight into one couple's struggles to work together should highlight how important it is to have good information in the record for a court to work with.  In Frackman, it sounds like there was some back and forth about a diagnosis and resistance to taking steps to investigate sensitivities to food, if not allergies.
In a child neglect case in New York, a child's mother was deemed to have neglected her based on her avoidance of foods for him that she claimed she was allergic to, but not under direction of a physician.  In re Josephine BB., 114 A.D.3d 1096.   Further, she was seen feeding the child foods containing the allergens she claimed she could not have, which resulted in her not being allowed to feed her daughter during visitation.  Id.  The case, being one relating to neglect, is a sad one – and cautionary as well.  It is included here to show how courts do scrutinize claims of an allergy and what measures are taken in relation to it.
A 2008 Missouri Court of Appeals case included a reference to a lower court order requiring a father to obtain training regarding epinephrine.  Hueckel v. Wondel, 270 S.W.3d 450.  The court noted that, "Mother had complained that Father enrolled the child in Dexter schools without her consent; he also took the child to doctors other than the one listed in their court-ordered parenting plan and refused to cooperate on issues concerning the child's allergies."  Id. at 454.  The court on appeal found that the lower court rightly allowed review of the custody arrangement on a basis of changed circumstances, adding that, "[s]ubstantial evidence supporting this finding was brought out in testimony regarding the child's food allergies that required regular care."  Id.  The conduct of a parent when it comes to taking safety measures for their child is certainly something that can come under scrutiny of the courts, even if it isn't the ultimately dispositive issue.
When Things Go Wrong
If you've tried your best and the other parent is resisting safety measures, the record you've made in your case will become even more important as you return in some cases to court regarding violations of court orders.  (This is why you can't just plan to coordinate as things come up without some kind of roadmap, as discussed above.)  If a court order says you'll "work together" without explaining ground rules, when tempers flare you'll end up re-litigating your case all over again.  If, instead, court orders indicate the allergy and basic measures to deal with it, you can hold the other parent accountable and enforce the mandates of the court.
The way courts enforce orders in civil cases is often through the threat of contempt.  This relies, however, on the premise that the person doesn't want to get in trouble for not complying.  Matters like that are state, and situation, specific.  A parent who refuses to pay child support, could ultimately land in jail, but the underlying issue of child support is still unresolved considering they now can't go to work to make money from which to garnish.  Or fining a party with your attorney's fees and costs if you have to go to court to enforce an order may result in the fine but not any change in compliance.  It can be maddening, but good counsel will be able to give you a buffer between yourself and your ex.
Low cost or free representation may be available and if not, it is still money well spent to have the assistance of an attorney when you're dealing with contentious custody matters.  Your attorney should be a good fit: you should feel comfortable confiding in them and feeling heard.  If you're shuffled to staff or a different attorney every time, you're not getting the nuanced representation that should be present in a high stress case if the other side isn't working to keep the child as safe as they should.
This all does not mean turning your child into an informant, however.  Teach your child to advocate for themselves and be vocal about their own safety.  Many children fear pitting one parent against another but if conflicting approaches rise to a level of a genuine safety concern, remind your child that they have done nothing wrong and that they are loved.
It Takes a Village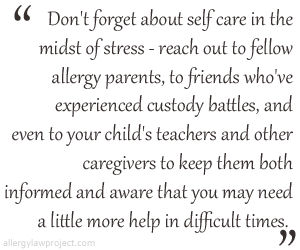 Don't forget about self care in the midst of stress – reach out to fellow allergy parents, to friends who've experienced custody battles, and even to your child's teachers and other caregivers to keep them both informed and aware that you may need a little more help in difficult times.  As mentioned above, so much depends on your own unique circumstances and they don't involve food allergy alone.  Still, hopefully the considerations discussed here are useful and can keep children's best interests at heart.
While not meant to be legal advice or advertisement, this post, like all featured here on the Allergy Law Project, is meant to assist in a general understanding of allergy law. Questions or concerns sent via e-mail or social media should not contain confidential information and no attorney client relationship is contemplated or implied by provision of this information. Comments are closed but you can e-mail admin@allergylawproject.com if there are topics you'd like to see covered or if you are interested in being a contributor. All rights reserved, not to be reprinted or republished without express written permission.