Alisa Gleason, who has a life-threatening peanut allergy, boarded a flight from Florida to Chicago on United Airlines ("United") on May 28, 2011. Before the flight, she asked United employees to make an announcement for passengers to refrain from eating peanuts on the flight; United agreed. However, once on the plane, United crew-members on the flight refused to make the announcement as promised.
One hour into the flight, Ms. Gleason started experiencing an allergic reaction. She had noticed that someone four rows behind her was eating peanuts. She took Benadryl and an inhaler* to no avail and her reaction worsened. Flight attendants and a passenger who was a nurse told the pilot that Ms. Gleason may not survive all the way to Chicago, which was 40-45 minutes away, as she was lapsing in and out of consciousness and experiencing stridor. The pilot made an emergency landing in Missouri and Ms. Gleason was treated at a hospital there for two days in intensive care.
Gleason v. United

Ms. Gleason brought a lawsuit against United claiming that United was negligent, had caused her emotional distress, and had breached the contract with her by failing to make the promised announcement. United filed a motion for summary judgment, which is a legal brief arguing that the plaintiff would lose even if all the facts the plaintiff alleged were true.  In other words, they wanted the suit decided then and there on legal grounds. A federal judge recently agreed with United and United is now asking the court to order Gleason to pay them $9,888.33 to cover their costs for the litigation.
The Court found that the plaintiff, Ms. Gleason, was legally barred from bringing her claims against United because of a law known as the "Airline Deregulation Act." That law says that a state cannot "enact or enforce a law…related to price, route, or service of an air carrier." (emphasis added). Because Ms. Gleason's claims were all related to the service provided by the air carrier, it held that the law applied and her claims must be thrown out.  Her requests for relief were essentially barred at the door because of a law protecting airlines from suit. Courts have defined "services" to be any bargained-for or anticipated provision of labor from one party to another. Services in the airline context have been held to include ticketing, boarding procedures, provision of food and drink, baggage handling, and the transportation itself.
The Airline Deregulation Act ("AD Act") was passed in 1978 to deal with the fast growth of the airline industry. Prior to 1978, airlines needed government approval for many things, including which routes they could use. This made it very difficult for new and affordable airlines to enter the market and was thought to be unfair to fostering competition. To help make airfares lower and affordable, the AD Act limited the amount of lawsuits that could be filed against an airline. That provision remains in effect today. As a result, a majority of cases against airlines involving state tort (a tort is a civil wrong) claims, like negligence and infliction of emotional distress, have been barred.
Federal Laws Trump State Laws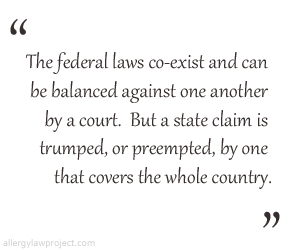 Just as Ms. Gleason's claims brought under state tort law failed (like breach of contract, etc.), claims brought pursuant to the Americans with Disabilities Act are also generally unavailable to passengers with disabilities. The Americans With Disabilities Act does not apply to airplanes (See our previous post). The Air Carrier Access Act does apply, but it does not allow a person to actually sue an airline. The only way Ms. Gleason could have been successful would have been to argue that United had violated some other specific federal law. For example, a person was allowed to sue an airline because they refused to allow her to board without government-issued identification. Because the rule requiring passengers to have identification was a federal rule, the person could bring their case. The federal laws co-exist and can be balanced against one another by a court.  But a state claim is trumped, or preempted, by one that covers the whole country.
Another federal law says that "no person may operate an aircraft in a careless or reckless manner so as to endanger the life or property of another" (C.F.R. 91.13(a)). So if you can show that an airline employee broke this law, you may be able to sue. However, this is a very narrow exception and still may not survive a motion for summary judgment. The cases that fall under this standard seem to involve failure of the pilot to check parts of the plane or mistakes made when mechanics fix a plane.  Therefore, passengers involved in a plane crash, for example, can pursue suit under this law.
A Call for Change
Where does this leave the allergic passenger like Ms. Gleason who was harmed by the airline's failure to keep its promise? Pretty much up the creek without a paddle. The take-home message from the case is that the allergic passenger has almost no rights to sue an airline for conduct related to their allergic condition. If you try to sue and are unsuccessful, you could face attempts by the airline to make you pay their litigation costs, leaving the allergic passenger at the mercy of the airline.
The only way we will see relief is by demanding changes in existing law. It is not only those with allergies who are denied redress for deplorable and unsafe treatment, individuals with disabilities across the board have struggled to access air travel while air carriers have been protected in their discriminatory conduct. This is a moment to look to our allies and demand better for ourselves. May it not take a death in the air for the law to change.
* The facts set forth in court filings are unclear as to whether she received epinephrine. The decision only mentions Benadryl and an inhaler, while the complaint says Ms. Gleason "took her medication."
Learn more about the Allergy Law Project on our About page and feel free to subscribe to our RSS feed, follow us on Twitter (@allergylaw) to learn when new posts go up, or on Facebook. If you have ideas for stories or see court cases of interest to the allergy community, please let us know.  
While not meant to be legal advice or advertisement, this post, like all featured here on the Allergy Law Project, is meant to assist in a general understanding of allergy law. Questions or concerns sent via e-mail or social media should not contain confidential information and no attorney client relationship is contemplated or implied by provision of this information. Comments are closed but you can e-mail admin@allergylawproject.com if there are topics you'd like to see covered or if you are interested in being a contributor. All rights reserved, not to be reprinted or republished without express written permission.