For many kids, summer camp is a right of passage. It is precious time apart – when kids test their wings, practice independence, and step away from electronics (unless they go to a tech themed camp, of course). For kids with food allergies, camp can be an especially important opportunity to gain confidence. Yet, mainstream camps have not historically been welcoming to kids with food allergies despite federal law that requires access. Outright exclusion, requirements that parents of allergic kids wait in the parking lot all day long or even attend camp with their child, and the inexplicable persistence of "guiding the hand policies" and a host of other unlawful policies together make summer camp one of the most difficult to access activities for kids despite the existence of laws supporting the right to participate safely and equally.
While there are food allergy specific camps out there, many kids and parents seek access to mainstream camps.
Federal Laws and Local Camps

Either the ADA or section 504 (or both) apply to most camps. Whether a camp is run by a state/local government or a private organization such as the YMCA, kids with disabilities cannot be denied an equal opportunity to participate. Camps that are run by state and local governments fall under Title II of the ADA and private camps are typically covered by Title III of the Americans with Disabilities Act. Camps may also receive federal financial assistance meaning that section 504's prohibition on discrimination also applies. (To find out if a program receives federal funding, search usaspending.gov)
Regardless which part of federal law applies, most camps are required to welcome kids with disabilities unless doing so would create an undue burden, direct threat, or fundamentally alter the program. In other words, kids with food allergies cannot be denied access in most cases. Despite this clear mandate, discrimination seems to be especially persistent in summer camps and summer recreation programs. Reports of parents being told they must attend camp with their kids (unlawful) or wait all day in the parking lot with epinephrine auto-injectors in hand (also unlawful) are all too common despite being in clear violation of federal law.
"Guiding the Hand"

Also persistent in summer camps are policies sometimes referred to as "Guiding the Hand" policies. "Guiding the Hand" policies are written or verbal policies whereby programs say they are unable to administer epinephrine but will guide a child's hand so that the child can self-administer in the event of an allergic reaction. These policies seem to have arisen from the insurance industry and often parents are told that these policies are required by a camp's insurance.
In fact, such policies are unlawful. Camps cannot require children to self-administer epinephrine. Period. These policies are not only unlawful, they are particularly dangerous. Forcing the hand of a child in distress around a spring loaded device is an eminently bad plan (not to mention against medical best practices).
Insurance Expenses Can't Be Passed On
It is also important to note that insurance restrictions and higher insurance rates associated with welcoming a child with a disability cannot be used as a reason to exclude a child with a disability. Neither can the program place a surcharge on the family of the child with a disability.
This is not to say a camp and associated activities that take place there (such as sport events) cannot require insurance coverage for participation. The key is that there is not different treatment of one group of attendees versus another.
Speak Softly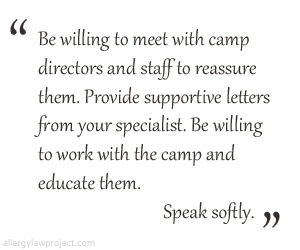 But knowing all this – knowing that the spaceship camp your child is hoping to attend with their best friend is placing unlawful restrictions on your child does not answer the more important question – how to obtain access for your child. The answer, almost always, is to speak softly, firmly, and persistently. Be willing to meet with camp directors and staff to reassure them. Provide supportive letters from your specialist. Be willing to work with the camp and educate them. Speak softly.
Natalie Giorgi
Finally, it is not possible to talk about camp and food allergy without talking about Natalie Giorgi. Natalie's death sent shock waves through the food allergy community and as parents, we have grieved with them and cheered their advocacy in Natalie's name (last year they founded the Sunshine Foundation in her memory, for example).
Peanut allergic, thirteen year old Natalie Giorgi died at a Sacramento summer camp after eating rice krispie treats that she understood to be safe but in fact contained peanut butter. Natalie's peanut allergy had been disclosed and documented. Benadryl was administered first and by the time Natalie's EpiPens were accessed by breaking through glass when a key could not be produced, the epinephrine could not stem deadly anaphylaxis. The Giorgi family filed a wrongful death lawsuit in Sacramento Superior Court in 2014 against the City of Sacramento in hopes of raising awareness and preventing other families from experience such a terrible loss.
Testing the Waters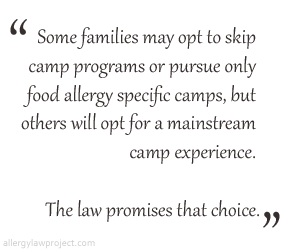 There are many major milestones that food allergy families experience through a different lens than their non-allergic peers – sending a child to preschool or daycare, field trips, class parties, first kisses, dances, dates, and of course camp. Some families may opt to skip camp programs or pursue only food allergy specific camps, but others will opt for a mainstream camp experience. The law promises that choice.
Learn more about the Allergy Law Project on our About page and feel free to subscribe to our RSS feed, follow us on Twitter (@allergylaw) to learn when new posts go up, or on Facebook. If you have ideas for stories or see court cases of interest to the allergy community, please let us know.  
While not meant to be legal advice or advertisement, this post, like all featured here on the Allergy Law Project, is meant to assist in a general understanding of allergy law. Questions or concerns sent via e-mail or social media should not contain confidential information and no attorney client relationship is contemplated or implied by provision of this information. Comments are closed but you can e-mail admin@allergylawproject.com if there are topics you'd like to see covered or if you are interested in being a contributor. All rights reserved, not to be reprinted or republished without express written permission.
Related on Allergy Law Project: Terms of Art in Disability Law & Food Allergy