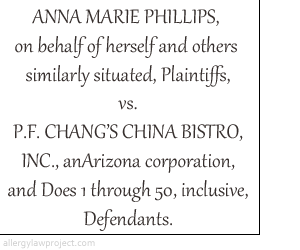 Anna Marie Phillips is a woman who lives in California who has celiac disease. She frequently eats at P.F. Chang's restaurant but can only eat items that are on their special gluten-free menu. Ms. Phillips noticed that every item on the gluten-free menu is $1.00 more than it would be on the regular menu. In fact, even items with identical ingredients on both menus cost $1 more on the gluten-free menu. This means that the price difference even applies to dishes that are naturally gluten-free such as the "Spinach with Garlic." (view a comparison graphic here)  Per her filed complaint (click here to view it in pdf form – CASE NO. 5:15-CV-00344), both dishes contain "[t]ender leaves stir-fried with chopped garlic" with no gluten present in either preparation. In essence, she is alleging that P.F. Chang's is making customers pay a surcharge for items on the gluten-free menu.
The Allegations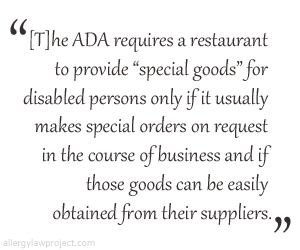 Ms. Phillips brought a suit against P.F; Chang's in California on behalf of herself and all similarly situated people. She argues that the surcharge is a violation of California civil rights laws, the Americans with Disabilities Act, and is a form of unjust enrichment (i.e. the restaurant is benefiting by getting more money than the product is worth). The case was first brought to state court, but now has been transferred to federal court.
The California Unruh Act prohibits businesses from engaging in unreasonable, arbitrary or invidious discrimination, including the unequal treatment of patrons. For example, businesses may not offer discounts to some classes of patrons but require payment of full price from other classes of patrons, where the price difference is based on arbitrary, class-based generalizations (such as gender). Ms. Phillips argues that she is arbitrarily being treated differently from other patrons by having to pay more for the same items and that P.F. Chang's is in violation of this California law.
Under the Americans with Disabilities Act, a "public accommodation may not impose a surcharge on a particular individual with a disability or any group of individuals with disabilities to cover the costs of measures, such as ……reasonable modifications in policies, practices, or procedures, that are required to provide that individual or group with the nondiscriminatory treatment required by the Act or this part." 28 C.P.R. §36.301. "A public accommodation shall order accessible or special goods at the request of an individual with disabilities, if, in the normal course of its operation, it makes special orders on request for unstocked goods, and if the accessible or special goods can be obtained from a supplier with whom the public accommodation customarily does business.") 28 C.P.R. 11 §36.307(a) & (b). Examples of accessible or special goods include items such as Brailled versions of books, books on audio cassettes, closed-captioned video tapes, special sizes or lines of clothing, and special foods to meet particular dietary needs." (emphasis added) 28 C.P.R. 36.307(c).
To summarize, the ADA requires a restaurant to provide "special goods" for disabled persons only if it usually makes special orders on request in the course of business and if those goods can be easily obtained from their suppliers. Because P.F. Chang's does make special gluten-free meals in the course of its business (in fact, P.F. Chang's boasts that it modifies menu orders upon patrons' request, and that it accommodates persons with food sensitivities*), it must abide by the ADA's prohibition on surcharging or charging customers with disabilities more.
Moving Forward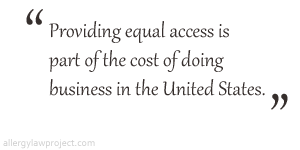 While it may be some time before the outcome of this suit is known, it is important to know the basic premises of the ADA that are implicated and the cold hard facts before taking sides. On the one hand, providing equal access is part of the cost of doing business in the United States. Just as the cost of wheelchair ramps and sign language interpreters cannot be charged to an individual with a disability, surcharging individuals with celiac disease for real or imagined costs appears to violate federal and state law. How would we feel if a school were permitted to charge parents of allergic kids for extra cleaning costs to prevent allergen exposure in an allergic child? How would we feel if a business had a ramp surcharge and made individuals who enter by ramp pay extra? Does the ADA permit a restaurant to charge customers with celiac extra for the privilege of being served? We believe the law will say "no."
That said, the public often sees one case and generalizes about other situations. The narrow issue in this case looks at the surcharge on gluten free menu items for a business already offering items for customers seeking gluten free options. Some of our other discussion is meant to show how layered a seemingly straight forward issue becomes. At the end of the day, however, it is not okay to discriminate, even if we personally don't mind paying a little extra for our spinach with garlic.
Learn more about the Allergy Law Project on our About page and feel free to subscribe to our RSS feed, follow us on Twitter (@allergylaw) to learn when new posts go up, or on Facebook. If you have ideas for stories or see court cases of interest to the allergy community, please let us know.  
While not meant to be legal advice or advertisement, this post, like all featured here on the Allergy Law Project, is meant to assist in a general understanding of allergy law. Questions or concerns sent via e-mail or social media should not contain confidential information and no attorney client relationship is contemplated or implied by provision of this information. Comments are closed but you can e-mail admin@allergylawproject.com if there are topics you'd like to see covered or if you are interested in being a contributor. All rights reserved, not to be reprinted or republished without express written permission.
Related on Allergy Law Project: Terms of Art in Disability Law & Food Allergy