Kelly Van Halen (née Carter), interior designer and ex-wife of the drummer Alex Van Halen of the famous band of the same name, knows exactly how it feels to face a school that refuses to do what is necessary to protect an allergic child. Van Halen recently won an appeal reinstating her lawsuit against her daughter's former private school for failing to put in place a safety net for her allergic child.
(See the case listing here, or download the pdf of the full unpublished opinion.  The difference between an unpublished and a published opinion can be found on the California Courts website.  What follows is a summary based on the appellate opinion.)
The Initial Suit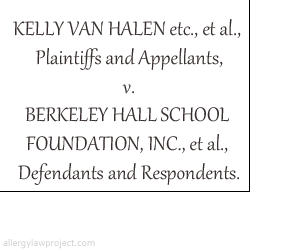 Kelly Van Halen and Baron Rogers enrolled their daughter, Stella, in an LA preschool called Berkeley Hall at a cost of $13,000. Two years after Stella began school at Berkeley Hall, she developed a nut allergy. The suit alleges that Van Halen told the headmaster about Stella's allergy and asked the school to restrict nuts in her classroom. Van Halen charged later that the headmaster assured her that he had implemented an allergy policy, that he committed to send a letter to the other parents asking them not to bring nut products into the classroom, and that he would make sure the staff was trained and willing to administer epinephrine.
Despite these assurances, Van Halen's initial complaint alleges that Stella's teacher later revealed that there was not a nut restriction in the classroom. Even worse, the teacher told her that the staff would never administer an epinephrine auto-injector because the school followed the doctrine of the Christian Science Church. Adherents do not believe in the use of medicines to treat or cure illness – instead members are taught to use their faith to heal themselves. Van Halen alleges that the school hid its basis in Christian Science and that as a result, she did not know that it was a Christian Science preschool. The headmaster (who allegedly made promises to Van Halen about the allergy policies) was subsequently forced to leave the school "shortly after adopting the policy banning nut products." The complaint alleges that the school failed to implement the allergy policy he had promised. Fearing for the safety of her daughter, Van Halen pulled her out of the school, but Berkeley Hall allegedly refused to refund her tuition.
Van Halen filed suit in state court in California alleging, among other things, breach of contract, fraud, negligent misrepresentation, and intentional infliction of emotional distress. Van Halen alleged that the school lied about creating a nut-free environment and about their willingness to administer epinephrine. She also claimed that she was misled insofar as the school failed to inform parents up front that it was a Christian Science school.
On Appeal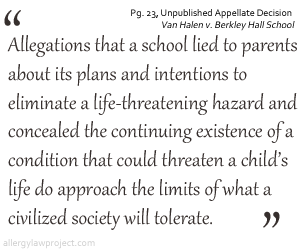 A lower court dismissed the majority of Van Halen's claims, but an appeals court in December 2014 sided with Van Halen and reinstated her suit.
In an unpublished decision (which means that it decides the issues before it but does not set a precedent for other cases), the court held that Van Halen had alleged sufficient facts to justify her claims for breach of contract and emotional distress. Notably, the court said, "[a]llegations that a school lied to parents about its plans and intentions to eliminate a life-threatening hazard and concealed the continuing existence of a condition that could threaten a child's life do approach the limits of what a civilized society will tolerate" and are consistent with a claim for emotional distress. The court likewise found that "the school placed Stella in a dangerous environment that could have killed her, falsely stated it was addressing the problem and making the environment safer, and then failed to take appropriate steps and commit the resources to be able to respond to a medical emergency in Stella's case if one arose."
The court also found that Berkeley Hall may have engaged in negligent behavior, by concealing "that it was in fact continuing to expose Stella to nuts and doing nothing to prepare for an allergenic emergency." In so holding, the court noted that the school owes a special duty of protection to its students.
The Road Ahead

Van Halen's win in the appeals court does not end the case. Ultimately, the finder of fact (be it jury or judge) will decide whether Berkeley Hall is liable to Van Halen. But for parents and advocates, the court's acknowledgement that a school's failure to put in place a safety net to protect an allergic child could cause serious emotional distress is a promising development. That a court found such conduct to be "beyond what a civilized society will tolerate" signals progress about issues that relate to the rights of allergic families and reaffirms the special duty of care owed to a student by a school.
Learn more about the Allergy Law Project on our About page and feel free to subscribe to our RSS feed, follow us on Twitter (@allergylaw) to learn when new posts go up, or on Facebook. If you have ideas for stories or see court cases of interest to the allergy community, please let us know.  
While not meant to be legal advice or advertisement, this post, like all featured here on the Allergy Law Project, is meant to assist in a general understanding of allergy law. Questions or concerns sent via e-mail or social media should not contain confidential information and no attorney client relationship is contemplated or implied by provision of this information. Comments are closed but you can e-mail admin@allergylawproject.com if there are topics you'd like to see covered or if you are interested in being a contributor. All rights reserved, not to be reprinted or republished without express written permission.
Related on Allergy Law Project: Crayon, Blocks, and Epinephrine – Access to Child Care Programs for Kids with Food Allergies, Terms of Art in Disability Law & Food Allergy