At any given time, there are thousands of airplanes flying in the skies over the world. On board some of those flights are people with allergies (e.g. foods, medicines, environmental). Do these allergic passengers have rights?
Air Carrier Access Act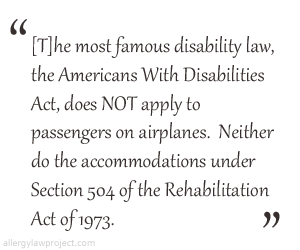 Many people do not realize that the most famous disability law, the Americans With Disabilities Act ("ADA"), does NOT apply to passengers on airplanes. Neither do the accommodations under Section 504 of the Rehabilitation Act of 1973.  (Note: The ADA and Section 504 do apply to the AIRPORT. However, once you board the plane, those laws no longer apply.) Instead, Congress created a separate law to apply to passengers with disabilities on flights, called the Air Carrier Access Act ("ACAA").
The Air Carrier Access Act is enforced by the United States Department of Transportation ("DOT"). DOT has created regulations to explain how individuals with a disability should be treated during flight. These regulations are called Part 382. Every airline carrier must have a copy of these regulations in every airport where they do business. Every carrier must also have a designated "Complaint Resolution Officer" ("CRO") in every airport to help the airline comply with the regulations and to help passengers with disability issues.
The ACAA defines a disability almost exactly as the ADA does – specifically, "a physical or mental impairment that, on a permanent or temporary basis, substantially limits one or more major life activities, has a record of such an impairment, or is regarded as having such an impairment". 14 CFR § 382.5. DOT has openly recognized allergies to be a disability covered by the ACAA. This means that airlines must make accommodations for passengers with allergies so that they can fly as safely on planes as any other passenger.
Be aware that if there are two passengers with competing needs, the airline must apply a disability neutral criteria for handling the conflict.
Buffer Zone Exception

This sounds great for the person with a peanut allergy, right? Not so fast. Congress has carved out an exception to passengers with peanut allergies. There are no federal regulations that mandate accommodations for peanut allergy. Specifically, DOT cannot make regulations that "provide a peanut-free buffer zone or any other related peanut-restricted area, or restrict the distribution of peanuts [on planes] until 90 days after submission to Congress and the Secretary of Transportation of a peer-reviewed scientific study that determines that there are severe reactions by passengers to peanuts as a result of contact with very small airborne peanut particles of the kind that passengers might encounter in an aircraft." Department of Transportation and Related Agencies Appropriations Act, 2000, Section 346.
So DOT cannot make the airlines create buffer zones or stop the distribution of peanuts. These are just the types of accommodations a person flying with a peanut allergy would want. Airlines can choose to make changes for peanut allergic passengers or not. The DOT did, however, issue an "Advisory Circular" giving airlines suggestions for handling allergies. See a related pdf file here. Unfortunately, the Advisory Circular is just a suggestion and is not binding. DOT does have a webpage that lists the policies of the major U.S. carriers' nut policies at www.dot.gov/airconsumer/nuts-airlines-policies. Just be aware that each airline is free to make its own policy, and policies often change and are sometimes ignored by the airline itself leaving passengers with peanut allergies at the mercy of the airline.
Further Limitations

What can you do if you feel an airline has failed to accommodate your allergy? Congress has limited what you can do. An individual CANNOT file a lawsuit under the ACAA. You cannot even sue an airline under state disability laws, due to a concept known as "preemption." Your first option, then, is to contact the CRO for the airline at the airport – gate attendants will know where to find their CRO. They will act as a mediator to see if your accommodations can be made. If you don't get satisfaction from the CRO, your only other option is to file a complaint with the DOT. The DOT will take the complaint and add it to a database of complaints, separated by carrier. If the DOT gets a complaint that is extreme or if they suspect a pattern of discrimination at a particular airline, the DOT can sue the airline. The airline can then be fined in court, with any fines paid directly to the U.S. Treasury.
It is important that the DOT knows about every complaint since many complaints can spur the DOT to take action. Just don't look for any money to come to your wallet when they do take action.
The bottom line – it is very difficult for an individual to make sure that the "friendly skies" are also the "accommodating skies."
For more information about your rights while flying and suggestions on how to stay safe, please see our publications page.
Learn more about the Allergy Law Project on our About page and feel free to subscribe to our RSS feed, follow us on Twitter (@allergylaw) to learn when new posts go up, or on Facebook. If you have ideas for stories or see court cases of interest to the allergy community, please let us know.  
While not meant to be legal advice or advertisement, this post, like all featured here on the Allergy Law Project, is meant to assist in a general understanding of allergy law. Questions or concerns sent via e-mail or social media should not contain confidential information and no attorney client relationship is contemplated or implied by provision of this information. Comments are closed but you can e-mail admin@allergylawproject.com if there are topics you'd like to see covered or if you are interested in being a contributor. All rights reserved, not to be reprinted or republished without express written permission.