Access for kids with food allergies is not just about getting in the door; it is about coming home at the end of the day. While children are still unlawfully denied entry to early childhood programs because of their food allergies, often the greatest barrier is not the refusal to admit, but the refusal to do what may be necessary to keep a child safe while they are at daycare.
Private and Public Daycares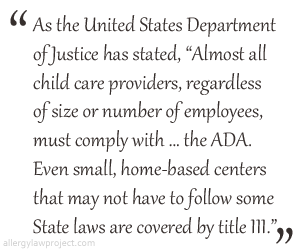 Daycare and preschool programs are required to do both – welcome kids with food allergies and keep them safe while learning. Child care programs must be accessible to kids with disabilities pursuant to the Americans with Disabilities Act. If a day care is operated by a state or local government, Title II of the ADA provides, "no qualified individual with a disability shall, by reason of such disability, be excluded from participation in or be denied the benefits of the services, programs, or activities of a public entity, or be subjected to discrimination by any such entity." 42 U.S.C. § 12132.
If instead a daycare is privately operated – in other words a business not run by a government entity, the ADA provides, "No individual shall be discriminated against on the basis of disability in the full and equal enjoyment of the goods, services, facilities, privileges, advantages, or accommodations of any place of public accommodation by any person who owns, leases (or leases to), or operates a place of public accommodation." 42 U.S.C. § 12182. As the United States Department of Justice has stated, "Almost all child care providers, regardless of size or number of employees, must comply with … the ADA. Even small, home-based centers that may not have to follow some State laws are covered by title III." See Commonly Asked Questions about Child Care Centers and the Americans with Disabilities Act.
Committing to Administration of Epinephrine in the Event of an Allergic Reaction

Does this mean that a daycare or preschool program must commit to administering epinephrine in the event of allergic reaction? Yes. Child care programs must agree to administer necessary medications, such as epinephrine, for children with disabilities. Blanket policies that child care providers will not administer medications violate federal disability law and have resulted in settlements following investigation by the United States Department of Justice. See Settlement Between the United States and La Petite Academy.
But it in the end, when it comes to child care programs, it is not only about knowing and asserting rights. When it comes to advocating for food allergic children, it is also about maintaining the ability to do what all parents want despite the disability – it is about building a relationship with providers based on open communication and trust. Knowing what the law requires is the science, but being able to calmly assert those rights even while your heart is pounding is the art that advocates develop as they navigate the world of early childhood programming with crayons, blocks, AND epinephrine in hand.
Learn more about the Allergy Law Project on our About page and feel free to subscribe to our RSS feed, follow us on Twitter (@allergylaw) to learn when new posts go up, or on Facebook. If you have ideas for stories or see court cases of interest to the allergy community, please let us know.  You may also find relevant publications from our contributors here.
While not meant to be legal advice or advertisement, this post, like all featured here on the Allergy Law Project, is meant to assist in a general understanding of allergy law. Questions or concerns sent via e-mail or social media should not contain confidential information and no attorney client relationship is contemplated or implied by provision of this information. Comments are closed but you can e-mail admin@allergylawproject.com if there are topics you'd like to see covered or if you are interested in being a contributor. All rights reserved, not to be reprinted or republished without express written permission.