When you become the advocate for a child with food allergies, your vocabulary changes quickly. Words like epinephrine, IgE and cross-contact become part of your everyday lexicon. Doctors, nurses, fellow allergy parents, online support groups teach us to navigate this new world. But as our little and not so little people step into the world beyond our front door, we discover quickly that we must also be expert in other words, legal words. Words like "504," "disability," and "public accommodation" have legal meaning – they are "terms of art" – that we must understand in the context of disability law in order to access the rights and protections federal disability laws may grant.
Welcome to the Allergy Law Project.
Americans with Disabilities Act

The ADA, or Americans with Disabilities Act, is a shorthand reference to 42 U.S.C. § 12101 et seq, a federal law that prohibits discrimination on the basis of disability. The ADA applies to workplaces, state and local governments, schools, and what's called places of public accommodation. The ADA prohibits discrimination and retaliation and protects not only those with disabilities but those associated with individuals with disabilities (think parents, advocates, spouses).
Section 504
The Rehabilitation Act of 1973, commonly referred to as "504," is a federal law that prohibits discrimination on the basis of disability by any recipient of Federal financial assistance. A 504 is not just a piece of paper that says a child's school must keep epinephrine available – like the ADA it promises equal access and nondiscrimination for individuals with a disability.
IDEA (Individuals with Disabilities Education Act)
IDEA is another federal law that ensures children with disabilities have access to a free and appropriate education. Children eligible for services pursuant to the IDEA have a right to special education and related services to make educational progress. A child with food allergy could also qualify for IDEA protection if they had another disability, for example a learning disability, that interfered with their ability to progress in school.
The Words We Use in Law and Allergy…
Disability
For individuals with food allergy, the protections of federal disability laws may be available to promote safe access and inclusion. Contrary to popular belief, much of disability law is not about labeling people. In other words, just because a person is diagnosed with a specific condition does not automatically mean that individual is considered an "individual with a disability" for purposes of the law.
A disability under the ADA "means, with respect to an individual– a physical or mental impairment that substantially limits one or more of the major life activities of such individual." 42 U.S.C. § 12102(2). Food allergies impact major life activities such as eating and breathing.
A food allergy affects the immune system, a food intolerance affects the digestive system. What does this mean for disability law? If a food intolerance impacts a major life activity then you proceed in your analysis, just as you would in a food allergy situation, or a celiac disease situation.
Never assume that being diagnosed with something that others have argued is a disability is an automatic determination that you're under the same umbrella. This isn't meant to be discouraging, it is meant to not give a false sense of applicability without doing your homework first. Understand the disease process, understand the protective measures you take, and you'll find that you are that much more poised and confident in this new world where allergy and law intersect.
Public Accommodation
Pursuant to the ADA, places of "public accommodation" may not discriminate on the basis of disability – this prohibition includes the denial of participation, provision of an unequal benefit, providing a benefit separate from that provided to others, and failure to modify policies and practices. What is a place of public accommodation? Public accommodations are private entities, restaurants, private schools and daycares, movie theaters, museums, parks, and even homeless shelters. Public accommodations must provide access to individuals with a disability unless doing so would create a significant risk to health or safety or create an undue burden.
Discrimination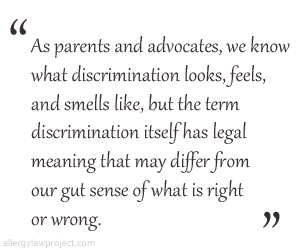 As parents and advocates, we know what discrimination looks, feels, and smells like, but the term discrimination itself has legal meaning that may differ from our gut sense of what is right or wrong. Discrimination can mean failing to make reasonable accommodations in the employment context, denying access to programs offered by a city government, or barring someone from "full and equal enjoyment" of services and benefits of a privately run day care.
504 ("Five-Oh-Four") Plans
A quick word about "504s" or "504 plans." As an allergy advocate this may be the first legal term you learn. A "504" is the written plan that allows access to an education for a child with a disability. Any school that receives Federal financial assistance is required to comply with section 504 and provide 504 plans for eligible children.
Just a Start…
And this is only the beginning. Join us as we explore all things allergy and law related.
Learn more about the Allergy Law Project on our About page and feel free to subscribe to our RSS feed, follow us on Twitter (@allergylaw) to learn when new posts go up, or on Facebook. If you have ideas for stories or see court cases of interest to the allergy community, please let us know.
While not meant to be legal advice or advertisement, this post, like all featured here on the Allergy Law Project, is meant to assist in a general understanding of allergy law. Questions or concerns sent via e-mail or social media should not contain confidential information and no attorney client relationship is contemplated or implied by provision of this information. Comments are closed but you can e-mail admin@allergylawproject.com if there are topics you'd like to see covered or if you are interested in being a contributor. All rights reserved, not to be reprinted or republished without express written permission.